Tokyo Olympics 2020 Day 3 Live Updates: After a poor outing on Day 2, India hopes for a better performance from their athletes on the third day of the Olympics. It was a bright start to Day 3 as India's first Olympic fencer Bhavani Devi delivered a win on debut but lost her Round of 32 match to get knocked out. Indian men's archery team comprising Atanu Das, Pravin Jadhav, and Tarundeep Rai lost to Korea in quarterfinals. Sharath Kamal won his second round match against Portugal but it was the end of the road for fellow paddler Sutirtha Mukherjee. In badminton, Satwiksairaj Rankireddy and Chirag Shetty went down in their men's doubles second round. Tennis player Sumit Nagal lost Round 2 to World No.2 Daniil Medvedev. Angad Vir Singh Bajwa finished 18th while Mairaj Ahmad Khan ended 25th in the men's skeet event. Manika Batra lost 4-0 in the third round to World No 17 Sofia Polcanova of Austria to end her campaign.
Next in action will be boxer Ashish Kumar. The Indian women's hockey team begin their campaign against Germany. Sailors Vishnu Saravanan and Nethra Kumanan will be competing in the men's laser race and women's laser radial race respectively. Swimmer Sajan Prakash will also be competing in men's 200m butterfly heats.
Remaining matches Day 3: Boxing: Ashish Kumar vs Erbieke Tuoheta (China) in Men's 75kg Round of 32 Bout: 3:06 PM | Swimming: Sajan Prakash in Men's 200m Butterfly Heats: 3:45 PM | Hockey: India vs Germany in Women's Pool A match: 5:45 PM
South Korea obliterated India 6-0 in the quarterfinals of the men's team archery event on Monday. As it turns out, India lost their match against the eventual gold medal winners.
🥇🇰🇷

They were exceptional.#ArcheryatTokyo pic.twitter.com/pmrC63sbd8

— World Archery (@worldarchery) July 26, 2021
On a day we had a 13-year-old Olympic medallist, we also have a 57-year-old medal winner in men's skeet.
Al rashidi winning skeet bronze at 57 years of age .. Take a Bow..
Age is just a number.. pic.twitter.com/mOVKPEXCIl

— Gagan Narang (@gaGunNarang) July 26, 2021
Nethra Kumanan's campaign meanwhile continues on Day 3. She finishes 40th in Race 4. That's the worst Race of her day so far. 3 more to go for her. She has slipped to 28th in the overall standings after this.
Boxer Ashish Kumar to take the ring in about an hour from now.
Manika Batra loses 4-0 in the third round of the table tennis women's singles event to World No 17 Sofia Polcanova of Austria. Polcanova had to undergo knee surgery just five months back, but looked unperturbed by Batra's use of the tricky long-pimple rubber.
Achanta Sharath Kamal is now the only table tennis player from India left at the Olympics. His third round match tomorrow will be against triple Olympic gold medallist, defending singles champion and former World No 1 Ma Long of China.
The fourth game. And this could be the last game. The Austrian takes a 3-1 lead in the game, before the Austrian coach takes a Time Out. Manika, with her coach's chair as empty as it has been for the whole of Tokyo 2020, now looking down and out. Few more minutes left to save her singles campaign. Three match points for the Austrian! And she seals it with the first.
Polcanova brushes aside Batra 11-8, 11-2, 11-5, 11-6.
Manika Batra's gutsy journey comes to an end in #tabletennis women's singles as she loses 8-11, 2-11, 5-11, 7-11 to Sofia Polcanova of Austria.

LIVE: https://t.co/lUZm0kHfeM pic.twitter.com/ExOrK4A0UN

— Express Sports (@IExpressSports) July 26, 2021
Second game begins! Polcanova starts with the first point. Ice-cold. Manika Batra catches the corner of the table with a defensive forehand to draw level. End-to-end! But then it's the Austrian who draws away with a series of points, showing all of her variety. Long service, short service, attack, defence, as Manika loses her rhythm. Loses 9 points on the run. A one-sided 2nd game. The Austrian now leads Manika 2 games to none.
@manikabatra_TT leading from the front, so proud to see her fight in each game 🙌🙌💪

Rooting for you all the way ♥️♥️#Olympics #TableTennis #ManikaBatra https://t.co/nGGYWk15dq

— Aditi Chauhan GK 🇮🇳 (@aditi03chauhan) July 26, 2021
World No. 63 Manika is taking on World No. 16 Sofia Polcanov, who is the tenth seed here. But it's the Austrian who claws back and takes the lead in the first game. Manika now trails 3-6 in the first game. She does well to keep toe to toe with the Austrian, but Manika is up against one of the best in the world today. She trails 7-9. Still not out of it.
But… it's the Austrian who takes the first game 11-8. Manika fought back, but it wasn't enough. Can she fight back in the next game? It's a best of 7 scenario here.
The Manika Batra hour is upon us. The final warm-ups are done. Manika to serbed first. And we are off! And the first point is won by Manika with an attacking backhand. And now goes 2-0 up.
Manika Batra is set to play her Singles Round 3 match in a few minutes.
Meanwhile, not everything is just about winning matches at the Olympics, as the judo arena shows again.
Protest #Olympics: After Algeria's Fethi Nourine, it's the turn for Sudan's Mohamed Abdalrasool to not turn up for the bout against Israel's Tohar Butbul. "The Palestinian cause is bigger than all of this," Nourine said then.

LIVE: https://t.co/lUZm0kHfeM pic.twitter.com/msDbOOfRpd

— Express Sports (@IExpressSports) July 26, 2021
TT: Manika Batra is trailing a blaze for India in the women's singles TT. She is up against Austria's Sofia Polcanova in the Round 3 up next.
Shooting: India's Angad Vir Singh Bajwa finished 18th while his senior compatriot Mairaj Ahmad Khan ended 25th in the men's skeet event.
Sailing: Nethra Kumanan is also in action for India at the moment.
Indian sailor @nettienetty begins Race 3 of Laser Radial event at #Tokyo2020

Let's wish her the best and #Cheer4India #Sailing #Olympics pic.twitter.com/67WAkMlUaU

— SAIMedia (@Media_SAI) July 26, 2021
Excellent result for India's Nethra Kumanan, who crossed Mark 1 in 25th place but made up positions to finish Race 3 of the Women's Laser Radial event in 15th place! She's 21st overall, a decent shot at making the Top 10 with 7 races to come.
The run for India's tennis contingent ends at the Olympics as Sumit Nagal loses 6-2, 6-1 to World No 2 Daniil Medvedev in the second round of men's singles.The Indian saved a couple of match points on serve but anther match point is offered with a double fault, the game goes to deuce a third time and this time Medvedev clinches it.
Sumit Nagal struggled on the serve in this game at the start, but came back to two points. But clinical Medvedev won the game. He is leading 4-1 and now will serve again.
Big Day 🤺
It was Excitement & Emotional.
I won the First Match 15/3 against Nadia Azizi and become the First INDIAN Fencing Player to win a Match at Olympic but 2nd Match I lost 7/15 against world top 3 player Manon Brunet. I did my level best but couldn't win.
I am sorry 🙏 🇮🇳 pic.twitter.com/TNTtw7oLgO

— C A Bhavani Devi (@IamBhavaniDevi) July 26, 2021
Daniil Medvedev manages to hold on to serve despite Sumit Nagal coming from behind to take it to a deuce. Medvedev leading 2-0 in 2nd set.
In Sailing Men's Laser Race, Indian sailor Vishnu Saravanan finishes 14th, 20th and 24th in 3 races getting an overall rank of 34. Score of best 9 races out of 10 will be considered before medal race.
On Sunday, hopes were once again pinned on the hockey team to salvage what had been a largely miserable day for India at Tokyo 2020, save for a few impressive wins by PV Sindhu, Mary Kom and Manika Batra. The afterglow of the silver medal that Mirabai Chanu won on Saturday was already beginning to wear off on the Indian contingent. At the shooting range in Asaka, which was an American army camp from 1945 to 1960, the bubble that the shooting team was living in was burst after none of the rifle and pistol shooters could make the final of their events.
An hour's drive away at Ariake, Sania Mirza and Ankita Raina surrendered their advantage to bow out in the women's doubles first round while Manish Kaushik lost his opening bout, making it two defeats out of two for India's male boxers at these Olympics.
On a hot, extremely sultry day when even laptops needed coolers, looking for an Indian win was tougher than searching for a drop of water in a dry, arid land. It was expected that the men's hockey team would at least put up a fight against the Australians, if not beat them. But placing hopes on the hockey team is like a hopeless gambler placing one final bet, convinced he'll break even. (READ FULL STORY)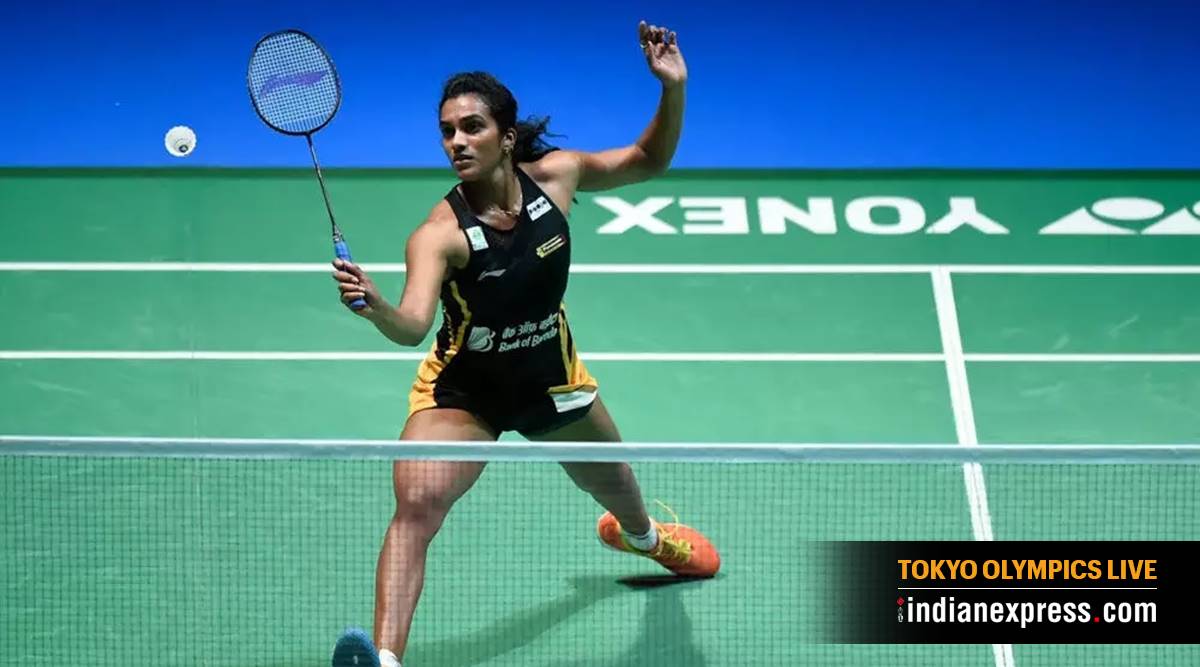 Tokyo Olympics: PV Sindhu begin her campaign in style on day two.